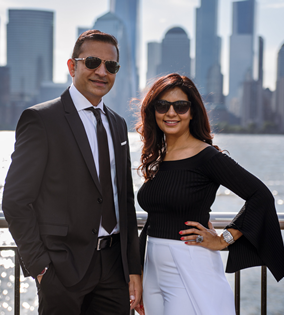 MORRISTOWN, N.J. – The Ramchandani Team, a Broker-Salesperson Team in Morristown, NJ has been named to the "Realtors on the Rise: Honoring 50 of the Industry's Best Agents" list by National Relocation and Real Estate Magazine.

Here are some details about the award and the article below:

Realtors on the Rise: Honoring 50 of the Industry's Best Agents

Who are the Realtors distinguishing themselves in today's real estate market?

RISMedia's Real Estate magazine presents its first annual Realtors on the Rise competition, spotlighting 50 of today's most innovative, successful agents, chosen by Real Estate magazine editors from hundreds of submissions.

Selected from hundreds of talented professionals, our Realtors on the Rise were chosen for being tenacious, creative, technologically proficient, business minded, and socially active…not to mention highly successful. We salute their achievements in a marketplace that is constantly challenged by change.

The finalists paint the picture of today's real estate agent—they come from all walks of life, from all ages and all demographics. Success stories are found in the newbies and the veterans alike. Some are recent college grads, some have come from serving decades in other industries. Some are newfangled, some are traditional. The common thread that makes them winners? An exceptional focus on building customer relationships.

A Realtor who stands out from the crowd and demonstrates the qualities that will enable him or her to succeed in this business—no matter what changes lie ahead.

Nominees demonstrate some or all of the following: innovative marketing, unique listing and selling strategies, exceptional business growth, industry support, community involvement, and the ability to lead a balanced life.

—Maria Patterson

Smitha Ramchandani and the SR Real Estate Group
Morristown, New Jersey

A successful business owner in her native India, Ramchandani looked for a new field to enter into when she moved to the United States with her husband. She started her real estate career in 1996 and concentrated on FSBOs and expired listings while capitalizing on the new advances in technology, the first one in her area to create a personal Web site when the Internet was just beginning to take off. Today, this site generates one-fourth of her business.

Their team is ranked in the Top 0.5% of All New Jersey Realtors. They attribute their success to systemized follow-up methods, Web-based leads and custom marketing programs that allow them to work smarter.