A Lifestyle Different than Single Family Living...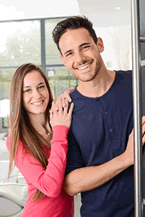 Townhouse and Condo Lifestyle
Years ago Townhouses and condominiums were almost nonexistent in the United States. Today, one out of every four home sales is a townhome or condominium.

The reasons they have become a very popular alternative to single family homes are very simple:

Features: The Townhouse/Condominium lifestyle offers such amenities as a swimming pool, playground, club house, balcony, deck, in-unit washer/dryers, individually controlled air conditioning and heating systems, attached garages, basements, and in some newer developments, the latest state of the art kitchens. Most Townhomes and Condos are just a few minutes' drive or walk from theaters, restaurants, museums and department stores.

Security: Security in a Townhouse or Condominium allows for peace-of-mind. Most Townhome and Condominium communities offer a well-lit and safe living experience.

Affordability: Townhomes and Condominiums are popular because of their affordability. Typically, the price per square feet of a townhouse or condominium is lower than a single family home because the townhouse or condominium does not have the land that a single family home offers. The cost efficiencies of townhomes and condominium can save owners thousands of dollars over the long term. Repairs to the facility, upkeep of the grounds and other maintenance expenses are shared by all owners and the cost is spread throughout the community association.

Maintenance: The maintenance features of townhouses and condominiums are really one of their best aspects. Most of them have a 24-hour maintenance staff, which can routinely attend to any emergency that occurs. Also in some communities when you are away for an extended period of time and there is a problem within your unit, the community management office can resolve some problems.

What is a Townhouse or Condominium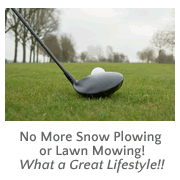 When purchasing a townhouse or condominium, you are buying the interior space of an individual unit, and share an undivided interest in the ownership of the common areas with other owners in the complex. Common areas may include areas such as exterior grounds, hallways and recreational facilities. Your membership to the community homeowners' association becomes automatic with your purchase. Typically these associations charge annual dues which often times are paid on a monthly schedule.

So what is a condominium or townhouse? It's a cooperative form of ownership in which homeowners "join with each other on a democratic basis to own or control the housing and/or related community facilities in which they live," defines the National Association of Housing Cooperatives.

A condominium/townhouse owner actually owns part of the building and land (their own unit and a pro-rata share of the common property,) while in a "co-op" the owner owns a part interest in a cooperative that operates the building and land.

A homeowner's association manages and maintains the common areas and dues can also pay for some or all utility bills, trash removal, snow shoveling, window-cleaning, and whatever else the HOA members agree upon.

The nation's largest builders are changing their business models to build more multi-family housing for purchase. D R Horton built only single-family detached homes until 1996. Today, condos and townhomes are over 17 percent of the company's business, and it expects to build more in the future, according to a Wall Street Journal report in December 2005.

Buying a Townhouse or Condominium
You begin your investigation about the community by carefully reviewing the CC&R's (Covenants, Conditions, and Restrictions), Articles of Incorporation and Bylaws. These documents cover the rules and regulations governing the community and will answer many of your questions about the community.

Another important issue to consider is the resale value in the future. Some factors affecting resale value are: demand for particular models (number of bedrooms and baths), upgrades, the location of the unit within the complex (End unit versus interior unit, backs to woods, near the playground, golf course or on a pond), location of the complex (accessibility to major roads and public transportation), the school system and the taxes.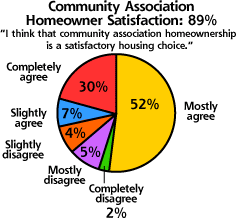 Condos/Townhouses: A lifestyle choice that continues to gain popularity
There are about 15 single-family dwellings to every condo, but buyers are pouring into condominiums, presumably for the lock-and-go, low-maintenance lifestyle they promote.

Celia Chen, an economist for Economy.com told American Demographics that condominium prices have now shot above those of single-family homes. Clearly, people aren't buying them because they are cheaper. It's a lifestyle choice, and pundits believe that they'll only become more popular.

From 2005 to 2015, American Demographics projects that all owner-occupied households of ages 55 to 74 will rise 36 percent, an increase of over 8 million older homeowners. According to a 2005 Del Webb survey, 45 percent of "active adults" (those aged 59-70) plan to move upon retirement. The number one reason they cite for moving is that they "want a home with less maintenance."

Why Prices of Identical Townhomes May Vary
How is it possible that two nearly identical townhomes or condos located a few blocks from one another can vary so radically in price (often by more than $10,000)?

Disregarding for a moment the interior improvements or upgrades that sets one townhome apart from another, let us consider exterior factors that influence the price. For example, townhomes backing up to main streets that lead in and out of a neighborhood might be less desirable and could appreciate more slowly than those separated from primary thoroughfares. Within a community, some factors affecting the price are: the location of the unit within the complex (End unit vs. interior unit, backs to woods, near a playground, golf course or on a pond) and the taxes. Also demand for particular models or demand for townhomes in a particular community, location of the complex (accessibility to major roads and public transportation) may affect the price.

Existing townhomes may differ radically in price for another reason: while one homeowner wants to sell, another may have to sell. It is easier to negotiate with the latter because he or she must vacate for one reason or another. The former will, of course, be more difficult to negotiate.

The purchase of a home is a significant financial (to say nothing of sentimental) investment. Remember to take all of these facts into consideration as well as your own personal preferences. To ensure you have all the information you need to make a good choice and for details about your particular community and model, please Contact Us, The North Jersey Condo and Townhouse Experts.